Four Season Bali at Jimbaram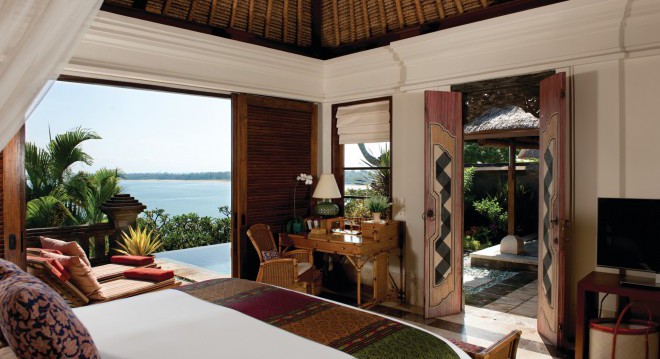 After spending some days at the amazing Fours Seasons Bati at Sayan (read the full review here), we decided to visit the other propriety of the luxury Chain in the island, Four Seasons Resort Bali at Jimbaran Bay.
I love beach, so I was very excited to get my feet on the sand and enjoy this amazing balinese luxury resort nestled right on the oceanfront.
Like at Sayan, here the gardens are manicured to within an inch.  We were greeted by the beautiful staff as soon as we arrived and rather than checking in at the reception desk, we were invited to sit down in one of the comfortable chairs, and welcomed with cool towels and refreshing drinks while filling out the simple registration form.
The Four Seasons Bali at Jimbaran Bay is set on extensive grounds of 35 acres, but don´t worry, there are plenty of golf carts available to take you anywhere you might wish to go.
We were taken in a golf buggy to our private villa, and it's like WOW… The Oceanfront One-Bedroom Villas are built in classic balinese style. It has a private walled tropical garden and offers 200 square metres of indoor and outdoor space. The air-conditioned bedroom is located within a thatched-roof pavilion. The bathroom is a luxurious retreat with a double vanity, oversized bathtub for soaking, a walk-in shower and an outdoor garden shower. Next to the bathtub you can find a menu of specialty baths that you could order, along with bath salts, a candle, and incense. The counter top amenities (witch I love) were beautifully encased in their own wooden box.
Outside, across from the main villa, was an open air living room with sofa, fresh flowers, dining table and chairs. The "patio" has also your private pool and lounge chairs so you can soak up the sun while reading a good book or simply relax while enjoying the ocean views. The villa was extremely well decorated keeping the character of Bali. Décor includes handcrafted teak furniture, exotic fabrics, Indonesian art and authentic Balinese antiques and artifacts.
We went to Coconut Grove at Jimbaran Beach, where you can do a lot of non-motorized water sports, including bodyboards, windsurfing, ocean kayaks and stand-up paddleboarding. After relaxing at the beach We indulged in a selection of cocktails at Sundara Bar, the Four Seasons Restaurant and Bar. The name is the Sanskrit word for "beautiful" and pays tribute to the glowing sun that warms this Indian Ocean hotspot.
This place is the perfect mix of high-end dining with an international feel and relaxed Balinese beach-club ambience with daybeds, dining, cocktails and DJ sets from day into night.
Sundara offers the perfect mix of five-star flair and relaxed beach-club vibe. The indoor-outdoor design combines a restaurant, bar, patio and a row of day beds for lounging by the Infinity Edge. Here we met the Lovely Amanda while having a great cocktail before heading for dinner, yes, Sundara transforms into one of Bali's most sophisticated dining experiences, focusing on steak and seafood. The food was delicious and the night ended with fireworks in the beach, unforgettable.
Breakfast was at Taman Wantilan, a beautiful open air restaurant with great views to the beach. The breakfast was delicious and with a wide variety of options, from tropical fruits to tradicional dishes. I had an appointment at the SPA for a Karmic Cleansing treatment. The treatment was in a private bale near the beach… It beginning with a sound bath followed by meditation and ending with a traditional Balinese Melukat or Water Purification Ceremony with a Mangku (Balinese Priest), which involves cleansing the body and mind from past karma and negativity. This is performed through traditional rituals using incense, flowers, bells and Sanskrit prayers. The journey ends with the water purification – pouring of pure and fragrant Holy water and flowers over the body using a traditional 'gayung'. A very beautiful and sensitive experience and immersion into the Balinese way of blessings and mindfulness. It was incredible, not just all the ritual but also having a massage next to beach with the sound of the ocean.
After the treatment, nothing better than a Indonesian Healing Tonic. We went to the Jimbaran Bay Cooking Academy to join the spa team to learn how to do a Jamu. Hundreds of years of tradition and knowledge using local herbs, spices and other ingredients to purify, heal and strengthen the physical body. There are two different Jamus – Kunyit Asam, a blood purifier and Beras Kencur for boosting energy and appetite and strengthening the immune system. Delicious as it sounds this healing recipes.
I spent all afertnoon at Sundara swimming pool having cocktails and enjoying the sun. The dinner was served at Taman Wantilan restaurant. Celebrating the beauty of the Resort's oceanfront location, Taman Wantilan welcomes you to two Balinese-style pavilions, open to natural breezes and featuring soaring views over the gentle curve of Jimbaran Bay. The word Taman means "garden," while Wantilan means "outdoor gathering place." Every Balinese village features its own wantilan, and this lovely restaurant provides a friendly meeting place for the guests. The menu showcases authentic Indonesian cuisine, and each dish is lovingly prepared and elegantly served.
In the morning we went to the Jimbaran Fish Market at 8:00 am. This private tour guided by a Master Chef will teach you the secrets of exotic and aromatic flavors of traditional cuisine. It was a great experience since you can interact with local people, watch fisherman's working and buy the ingredients you will need to do your own lunch. After shopping we went to the Cooking Academy where a "dream" kitchen was waiting for us. The chef guided me while I was cooking my dish, a "Be Pasih Panggang", a grilled fish served with samba matah. The class ended with a Chef table lunch savoring my own cooking. It was delicious, I still can´t believe I cook that, eheh.
After lunch we check out and went to Ngurah Rai International Airport by private car. The service is so premium at the Four Seasons that they also have staff working at the airport… when you arrive there, they take care of your check in and baggage, how amazing is that?
This was my experience at the Four Seasons Bali at Jimbaran Bay. Like at Sayan, the staff was incredible and the service was excellent. Four Seasons Bali at Jimbaran is the perfect place if you want to combine luxury with tradition, right next to one of the most famous beaches in Bali.
Watch this video I did during my stay at this amazing resort:
Here is the video of my journey in Indonesia, during one month I explored the islands of Java, Bali, Lombok e Flores.
Reservations:
+62 (361) 701010
www.fourseasons.com/sayan/
Connect with Four Seasons Bali at Sayan: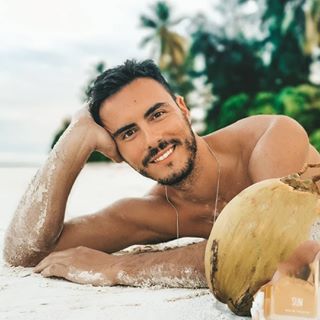 Hi! My name is João Cajuda, I'm a travel blogger from Portugal and founder of this website. In this blog I share my adventures around the world and give you tips about hotels, restaurants, activities and destinations to visit. You can travel through my videos or join my group tours that I organize to selected destinations. Visit my Adventure Travel Agency LEVA-ME and join one of my journeys!