WIN A TRIP!
Everyone knows how passionate I am for Morocco!
In this post I will share with you my TOP 5 places that you can't miss. And the best part… YOU CAN WIN A TRIP TO MOROCCO (OMG !!!) with me!
Yes, Christmas has arrived earlier this year and I decided in partnership with El Corte Inglés to offer the best ever gift to one of my followers … a trip to Morocco in one of my tours! Find out how to sign up in the end of the post!
But before that, let's find out … why is Morocco so special?
For those who missed geography classes, Morocco is located in North Africa, just 14 kilometers from Spain. However, the difference between this two worlds is overwhelming and the capable to fascinate any traveler.
Morocco is a country full of natural beauty, here are some of Africa's largest mountains, turquoise blue beaches, imperial cities, lost villages on the map, golden sand deserts and a lifestyle that seems to have stopped in time.
Morocco combines Arab / Berber with the Western world, a fusion that offers to visitors a great architectural diversity and abundant natural beauty. It is a country that has a bit for everyone, from those searching for the exoticism of a luxury hotel, to backpackers traveling by ride.
1 – Marrakech

The red city! The colours, the heat, the smells transport you to a magic that involves the mystery of the 1001 nights.  Here the past intersects with the present in an exotic blend by nature. Touring the souks is such an adventure, try to escape from donkeys, motorbikes, and shops full of crafts fascinating for the eyes but not so great for the wallet. Marrakech is not for everyone, but its charm is undeniable. Here you will find everything, glamorous spas, impressive palaces, snake charmers, mosques … etc. Do not miss a visit to the Madrassa Ben Youseff, an old Islamic university with more than 6 centuries and a pearl of the Moroccan architecture. Do not abdicate a mint tea during sunset, or a night stroll through Jemma El Fna, the busiest square in Africa and the post card of this fascinating culture.
2 – The Ouzud waterfalls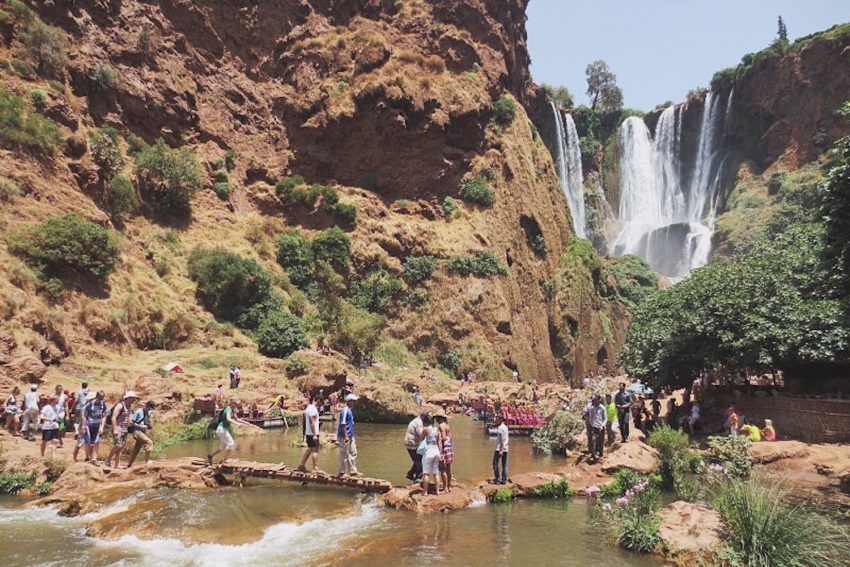 .
The Ouzud waterfalls are the second highest waterfalls in Africa (110m), located one hour drive from Marrakech, this place promise to fill the eyes and soul of any visitor. Take the opportunity to do a small trekking and visit the various view points, have fun with the monkeys on the way and do some fun selfies. If the heat tightens, you can even swim and visit some hidden caves.
3 – Chefchouen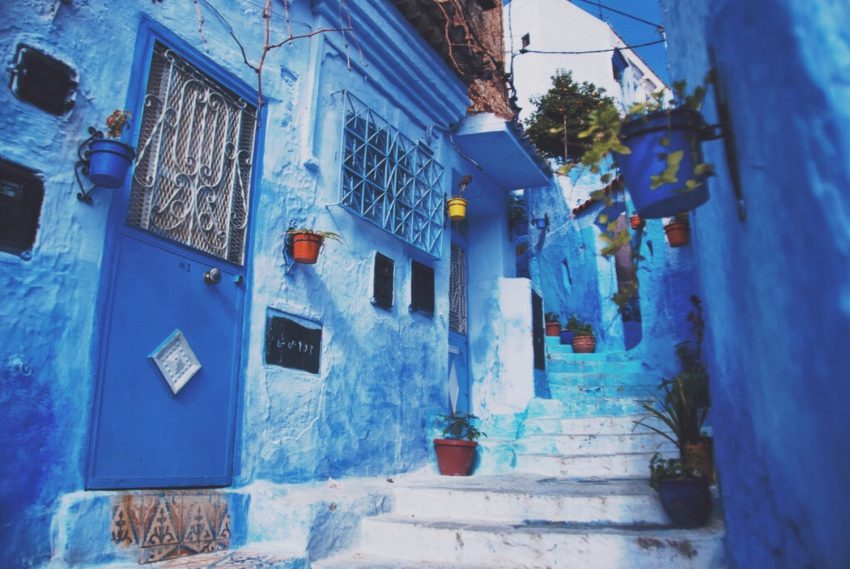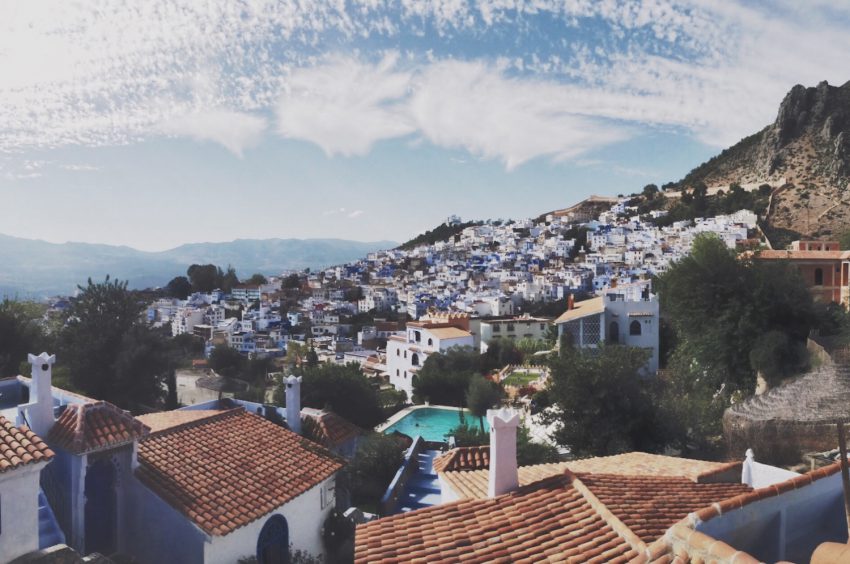 The Blue City! This small northern Moroccan city looks like it came out of a movie, yes… the city is all painted in blue. It has undoubtedly the most picturesque streets of the country and I am sure that the battery of your camera will not last long. Unlike the hustle and bustle of Marrakech, the streets of Chefchaouen are very calm, get lost on the blue shades and the vibrantly colored craft shops. Have mint tea in the Uta el-Hammam square while enjoying the architecture of the city kasbah. Or just relax in a swimming pool overlooking the green hills that surround the city.
4 – High Atlas
.
The great Atlas, one of the largest mountainous regions of Africa, is home to landscapes of indescribable beauty. This natural and historical barrier that divides the northern plains from the Sahara desert has a maximum altitude of 4167m. Going through these towering mountains is an incredible experience, especially in winter when the contrast of the snow with the palm trees gives a unique exoticism to this road. In addition to the beautiful landscapes, you also travel through remote villages, small markets with vegetables and tasty fruit, rivers, waterfalls, and a variety of ecosystems that make this place incredible charming.
.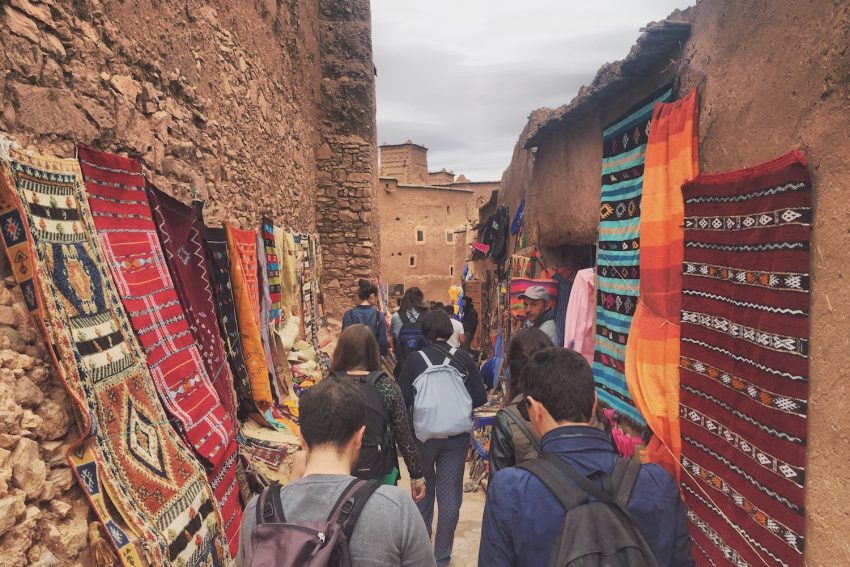 5 – The Sahara Desert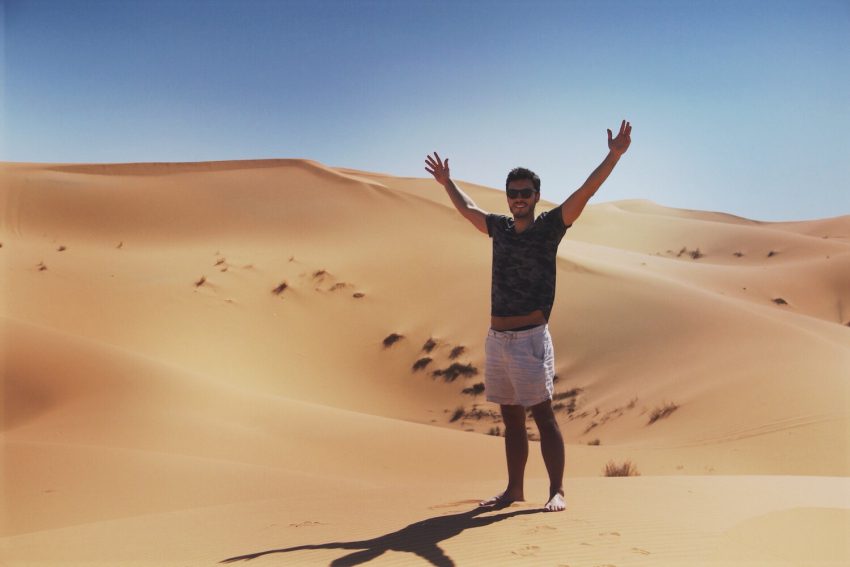 .
There are places that are unique, not only for their landscapes, but also in the magic they have within. The desert is undoubtedly one of the most incredible places in the world. Here silence is king … "lose yourself" (do not really lose yourself! Eheh) in the golden dunes whose wind has drawn over the years, are true works of architecture. There is not much to do here besides read and relax. Choose a good hotel (the Auberge du Sud, my favorite!) And cool off in the wonderful pool while watching the dromedaries roam the horizon. Only those who visit the Sahara knows what I mean. Luckily I have the good fortune to go there several times a year, and I always have in mind how unbelievable is to wake up in that place.
.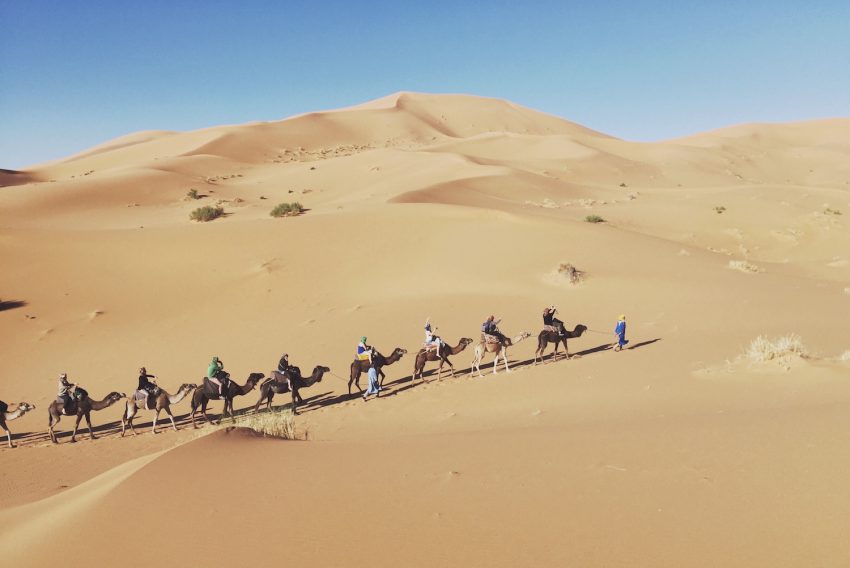 .
Now that you know what to visit, it's time to get to work and sign up for the contest!
CONTEST #moroccowithjoaocajuda
From 26/11 to 11/12 of 2016 share on my Facebook page wall and in your Instagram a picture that shows how much you want to come to Morocco with me … Sign up and WIN A TRIP TO MOROCCO WITH ME! Read all conditions to participate below.
PRIZE
Tour Morocco for 1 person with João Cajuda.
RULES
The #moroccowithjoaocajuda contest is integrated on my Facebook page, Instagram account, as well as El Corte Inglés accounts. This will take place between November 26 and December 11, 2016 at 23:59 in Lisbon and is open to all users over 18 who meet the requirements of the competition.
HOW TO JOIN?
1 – Take a photo showing how much you want to come to Morocco with me.
2 – Share your photo on the wall of my Facebook page (facebook.com/cajuda.pt). Use the hashtag #moroccowithjoaocajuda and tag @cajuda.pt and @elcorteinglesportugal. Share your photo on your Instagram profile. Tag the @joaocajuda @elcorteinglespt and put the hashtag #moroccowithjoaocajuda
3 – Tag and ask your friends to like the photos on both social networks. A photo full of likes looks more beautiful and you give them opportunity to also join the contest 😛
4 – Make a purchase in the travel articles department of El Corte Inglés (any value!)
5 – Send the receipt of your purchase and your name to contact@joaocajuda.com
Easy right? 🙂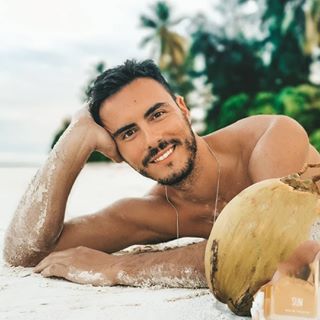 Hi! My name is João Cajuda, I'm a travel blogger from Portugal and founder of this website. In this blog I share my adventures around the world and give you tips about hotels, restaurants, activities and destinations to visit. You can travel through my videos or join my group tours that I organize to selected destinations. Visit my Adventure Travel Agency LEVA-ME and join one of my journeys!