What to Pack in your suitcase?!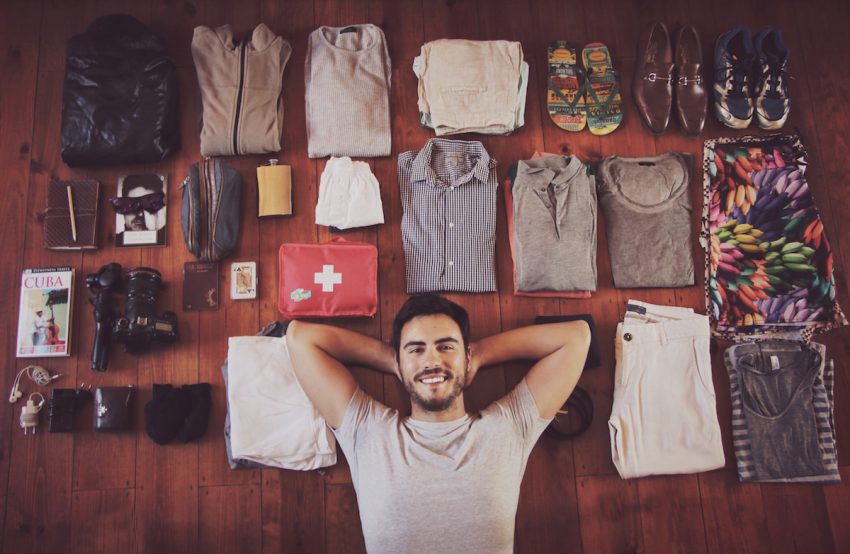 During a trip you will find many travelers, those who take a small bag and others who wished to have done the same. Although preparing the suitcase for the desired vacation is enthusiastic. There is always a question that makes us crazy … "What to pack in the suitcase?". Here you will find a list of things that are necessary and others that you can leave at home. Just print the list, follow my tips and start to pack!
.
Best of all … You can earn a Travel Kit, an offer of El Corte Inglés, where you will find dozens of brands and a huge supply of travel goods, from bags, clothes, accessories … Basically everything you need t for your adventure (check the catalog by clicking on the photo). At the end of the post you will how to be in the competition and register to win the travel kit.

… You will find many travelers, those who take a small bag and others who wished to have done the same. Take half the clothes that you want to take … take double the money!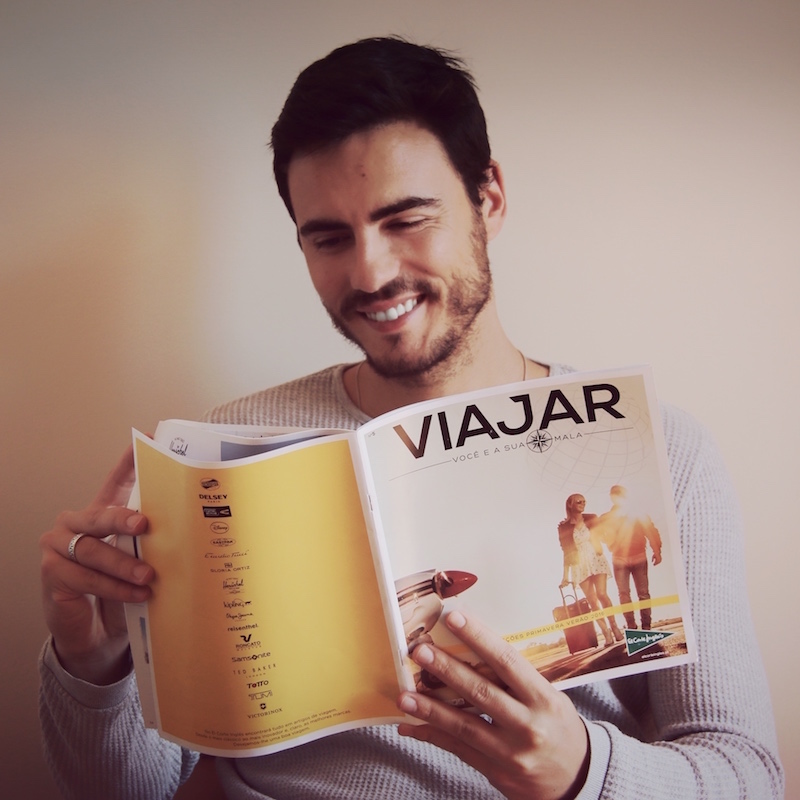 .
1 – To pick the type of bag for the trip? 
First of all it is important to know the destination and style of your trip. If you're going move around in Asia remember that you will go through sandy terrain, mud, dense vegetation … the most practical is a backpack. If your trip is to big cities then a wheeled suitcase may be the most indicated. For me the key is that it is spacious , light and has several storage areas … Usually I travel always with two , a large ( 72L ) for clothes and a cabin ( 34L ) for valuables , books , first aid kit , electronic devices the ( computer , camera , chargers , etc … ) and a change of clothes. You do not if the other one will get lost somewhere and you will get to your destination with nothing to wear.
2 – Make a list .
There's no need to take a course to learn how to make a good suitcase. It takes some good dose of patience and organization. to stuff everything in there is not the best solution. First of all you should make a list of things to take ( I spared you the trouble of making a list, I share mine at the end of the post 🙂 . It is important to realize that traveling with few things makes all the difference .
3 – How long are you going?
1 week? 6 months? Girls (and some boys eheh ) … there is no need to take different pants and shoes for every day. Try to organize your clothes so you can repeat some clothes . For example, if I travel one month I take clothes for 10 days …I wash over there . It is very easy to wash a shirt in the hotel bathroom . Also, you can always put the clothes in a laundry for 3# and in a few hours will be clean. Another thing that almost everyone does is to buy clothes during holidays … Even if it's a t -shirt that says " Vietnam " ! The truth is that in some countries is so cheap that it pays off. So, save some space for holiday shopping and make sure that everything fits in the suitcase when returning… If you get to excited give to someone the clothes you took and do not want to bring back . My shirts are spread around the world .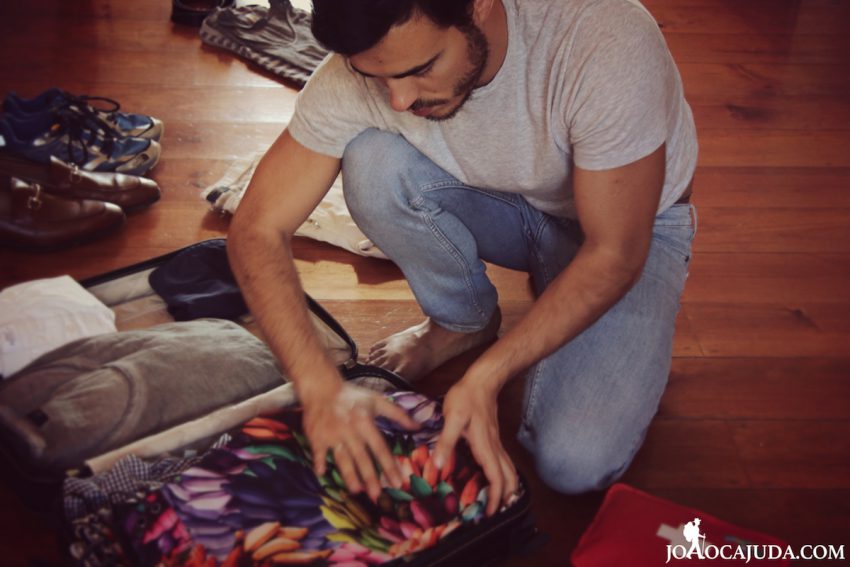 4 – The weight and size of bags
Now, this point is dedicated to my mother … "Mom, when the airline says are 30 kg , it's exactly 30 kg ! " This is because she , like most people take the entire house " 1kg extra will be ok!". I'm sorry to tell you, but most likely you will have to pay overweight , or worse … In desperation, to open the bag and start changing things to your friend 's bag (responsible ) while a whole check- queue is waiting for the Madame to complete her "mission impossible " … I confess that whenever I see this feel like going there to give them a sermon , but , as I have been thousands of times in this situation, thanks to my mother , I try to be understandable lol .
5 – Where are you going to?
Pay attention to the weather you'll get … You do not have to take the giant coat that fills half of the suitcase. if it's not gonna not be freezing. If you have to take it, wear it during the trip. If you go to a big city, probably you're going to take cuter clothes , if you go to Cambodia you're take the oldest ones … Clothing must be appropriate to the type of trip. Check the weather at the destination and have attention to the minimum and maximum temperatures , take clothes depending on the weather you'll catch .
6 – How many shoes / sneakers should I take ?
Well, I think 3 pairs of shoes and a pair of flip-flops is enough , either for a trip of a week or a month. I actually just take some old sneakers for tracking and a nicest pair to go out at night and some flip-flops … Attention , if you're going to very fancy places, add some shoes. There are places that you'll only get in if you are according to the dress code . As you can see it's only needed 3 pairs of shoes. I always try to separate them in bags , so I can mis them with the clothes and nothing will get dirty.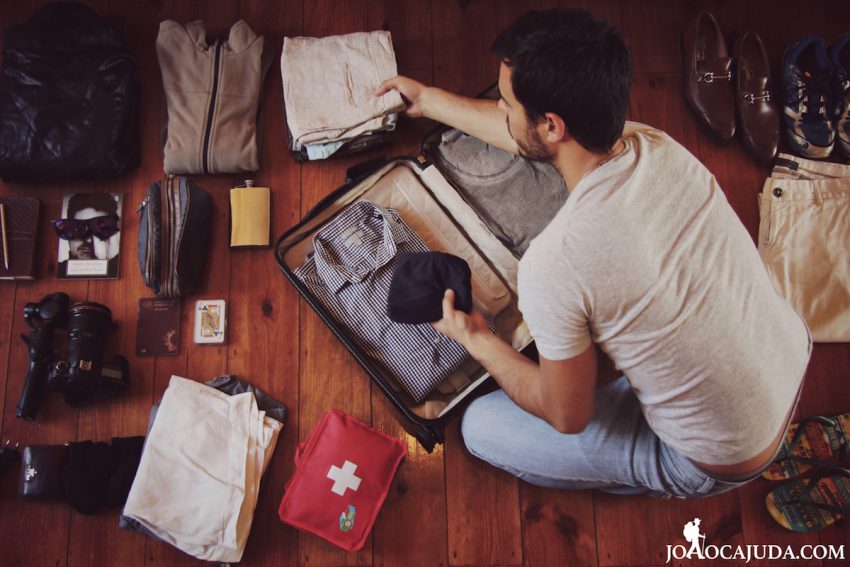 7- What about clothes? 
I always take simple clothing , comfortable , with basic colors to be easy to combine. I know …You have so many nice clothes that you can not decide. That fashion hat that almost looks like an umbrella and takes half of the suitcase… Is it really necessary ? Take just what you actually will need. Most of the times we take clothes that we end up no wearing, makes no sense. Organize your clothes , put t-shirts with t-shirt , shirts with shirts , shorts with shorts , all separate . Towels … I almost assure that your hotel will have towels, right ? So you do not need to take … If you need a beach towel, take a pareo instead. They are smaller and take up less space .
8 – Amenity Kit.

Another item that I think is important are the amenities. Lots of people takes the entire WC … Most hotels have shampoo and shower gel … "ahhh but I like mine" … Okay if you realyyyy want, buy those little empty bottles and fill them, you do not need to take shampoo that lasts for three months.
9 – And which electronic devices should I take?

Se não vais fazer um documentário não precisas de levar grande coisa. Telefone, máquina fotográfica, carregadores, adaptador (tens de ter atenção se é necessário para o país que vais) e uns phones. Esquece lá o computador e o iPad que não vais precisar disso para nada.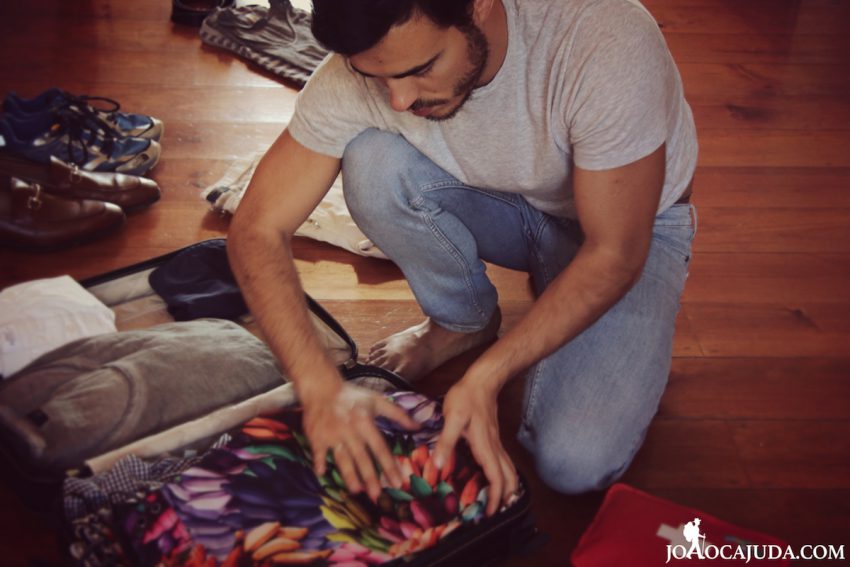 10 – Identifica a tua mala. 
If you will not make a documentary, there's no need to take much. Phone, camera, charger, adapter (you have to pay attention if it is necessary for the country you're going) and some headphones. Forget the computer and the iPad you will not need it for anything.
11 – Things forbidden in hand luggage!

If you're taking your XPTO shampoo or lotion that cost you fortunes, remember to put in the checked in lugagge, otherwise it will be retained at the airport. Do not take liquids over 100ml, scissors, razors, nail files and other strange things that many people take.
12 – The X-ray Ray always beeps when I was through! 
This post could also be for my mother who always wears rings, necklaces, earrings and complicated boots to take off , when you travel. Then stays five minutes more at the x-ray to take it because there is always something else that makes beeping lol. Learn from me, I do not take anything, neither belt. I'll get there, walk through and follow my way.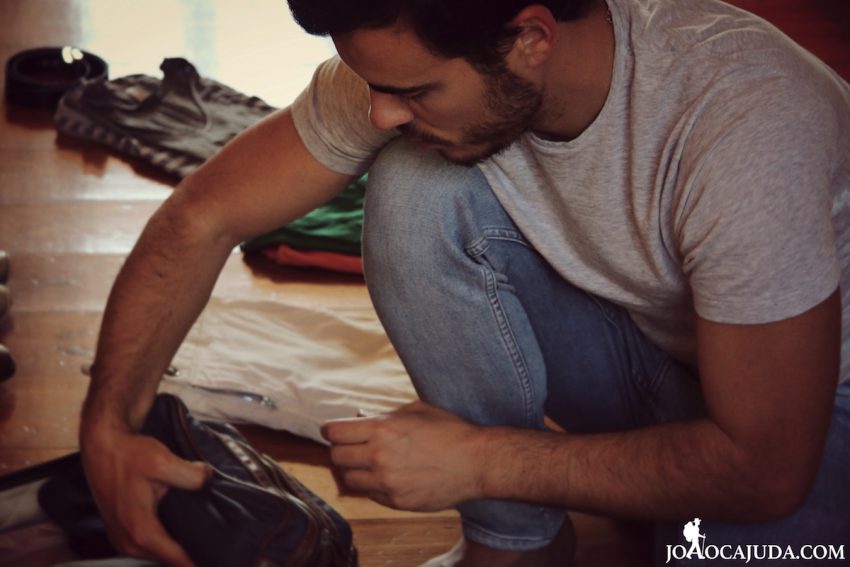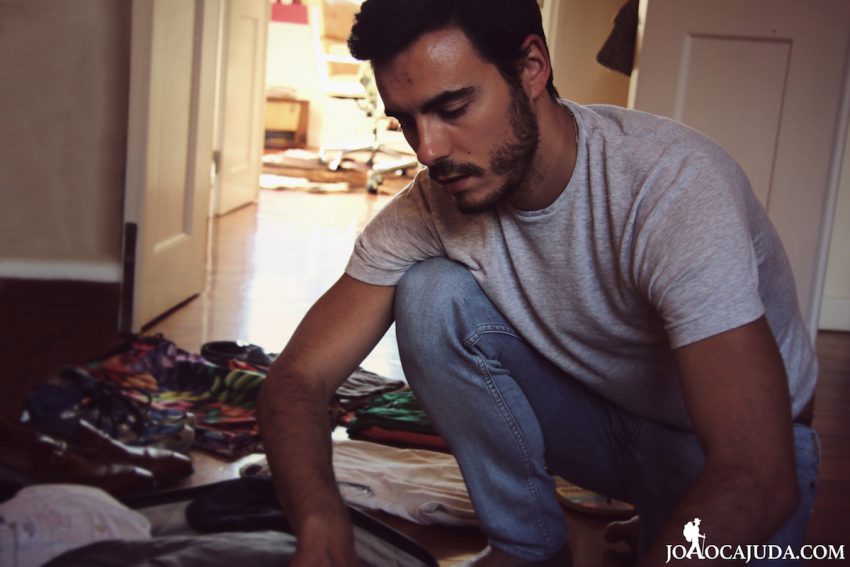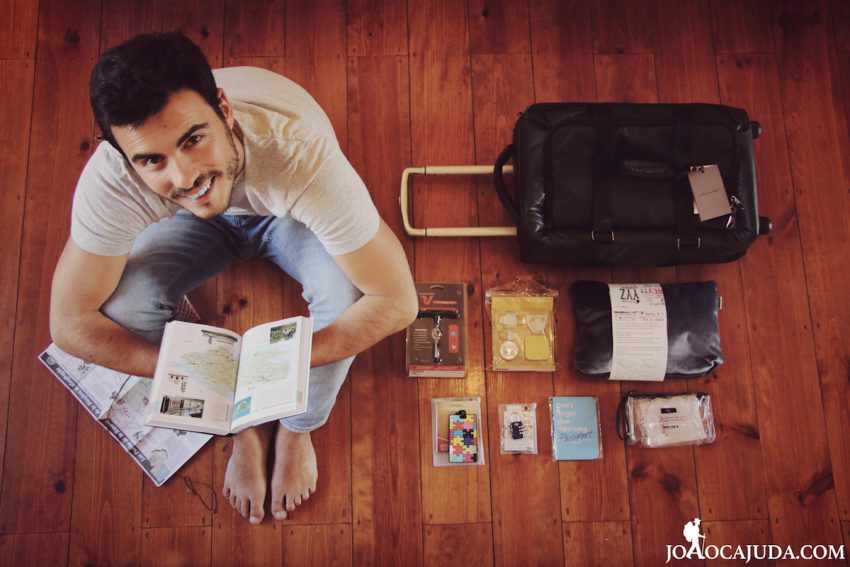 LIST OF THINGS TO BRING
As I said earlier, it is very important to make a list of things to take so that nothing is missing. Let us imagine that I travel two weeks to Asia in adventure mode. Here is a list of the things I always take with me:
Clothing
7 boxers
3 pairs of socks
4 T-shirts
2 long sleeves (for use at night because of the mosquitoes)
3 sleeve .
1 cute shirt
1 trunks
1 sunga (brazilian trunks)
1 Slippers
1 sneakers, comfortable and old for tracking
1 cuter sneakers
1 Belt
1 Jeans
1 comfortable trousers.
3 shorts
1 Raingear
1 Pare to the beach (it is lighter than a towel and you can always use as a scarf if you cooler, or even on the plane)
1 Sweatshirt or thin jacket for cooler evenings
1 Pajamas (only if you use)
Sunglasses (One is enough! If you lose them, buy another ones in the Chinese)
Electronics
Phone
Phone Charger
Headphones
Camera
Memory cards for camera
The camera charger
Super powerful flashlight (if you can buy those head flashlights)
Adapter for the car (I have one with two USB outputs, it is always useful when you are without battery)
Adapter
Amenities (all in small size)
Small travel kit  (shampoo, shower gel and lotion in small bottles)
Nail cutter
Toothbrush and toothpaste
Floss
Blade Shaving (foam is not necessary, or use soap or moisturizer)
Moisturizing lotion
Sunscreen (as they usually are large, you can buy at the destination)
Deodorant
Perfume (if you samples, even better)
Swabs (gets about 15 in a small package)
Small scissor (use to trim barbar, it is lighter than take the shaver, but it is useful for everything)
Wet wipes
Kleenex
Chapstick/lip balm
Comb or brush.
First Aid Kit
Malaria tablets (If VAS destinations with malaria … go to a traveler's appointment before)
Plasters.
Betadine (small)
Condoms
Omeprasol (Antacids to the stomach, has helped me several times)
Clonix (For toothache)
Moisturizing Serum (to help not become dehydrated in cases of diarrhea, very common)
Ciprofloxacin (antibiotic for urinary and digestive infections)
Paracetamol (for fever)
Nimessulide (Anti-inflammatory)
IU-250 (enzymes to restore the intestinal flora)
Mosquito repellents
Imodium (for diarrhea)
Fenistil (mosquito bites and burns)
Eye drops
Prescription drugs that you use for health reasons (copies)
Other important things
PASSPORT!! (If it happens to stay at home, without him you're not going anywhere)
Printed plane tickets (I have them on my email, but I always carry it printed)
Travel health insurance documents
Scan your documents such as passport, visa and driving license and have them on your email.
Photocopies of our passports, driving license and visa (you can also additionally take a picture with your phone).
Photos for Visas (if necessary).
Emergency contact information if something happens (put the info in English, you never know).
Waterproof bag for protecting documents and money.
Some money, sometimes you can have an emergency, the cards do not work …
Plastic bag for dirty clothes.
Notebook for writing notes.
Pen.
Ear plugs, so you can sleep … or just me that I'm so lucky to sit on the plane next to babies.
Blindfold, to be able to sleep anywhere.
A small cushion that you can use everywhere
Credit Card / ATM cards.
Book / guides / maps.
Cards to play (play poker with shells on a beach is always a good hobby)
Backpacks Identification
Put the locked screen image on your phone with your contact information in english
Lighter.
1 small padlock for suitcase.
1 Padlock current type of bike, useful for large train travel, so you can sleep at ease that no one takes you the suitcase.
1 very thin rope 4m, if you need to extend a t-shirts between two palm trees
Hip bag to store things we need to have always at hand: Mobile phone, money, passport, disinfectant, charger …
Have a lightweight and flexible backpack, preferably rainproof for short trips.
You are forbidden to take!
Computer or Ipad (unless you need it to work)
More than 3 pairs of shoes … they take precious space for other essentials.
More than 1 … 2 book Books are too many. Are you going to travel or you'll spend your time reading?
Packaging giant Shampoos.
Mirrors … what for?
Dryer … Girls, most hotels have dryer, unless you have a very small one.
Shaving foam … Boys will not die if they use the hotel soap.
Towels
CONTEST
I'm have  here a gift for you. The El Corte Inglés want to give a Travel Kit to one of my followers:
1 suitcase Emidio Tucci;
1 cushion;
1 Padlock;
1 bag with bottles for liquids;
1 charger / travel adapter;
1 Cover for passport;
1 Identifier for suitcase;
1 Scale for handbag;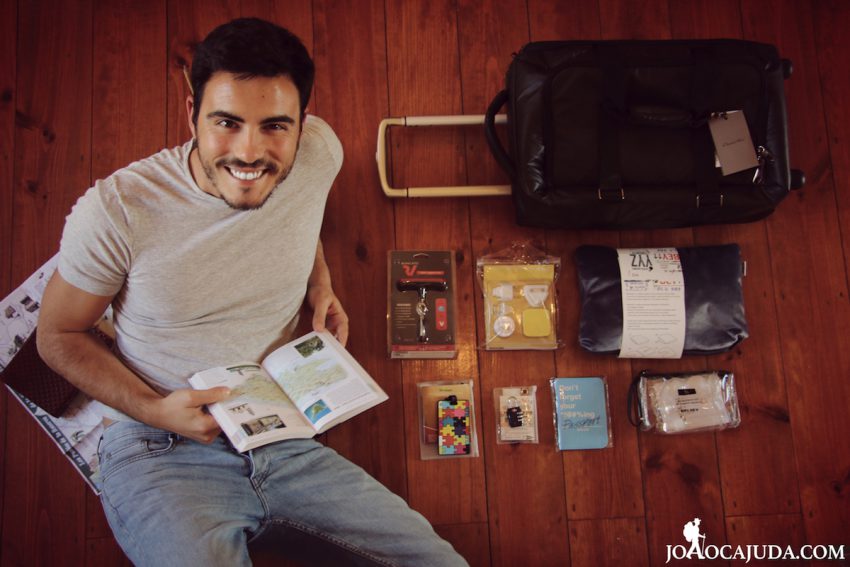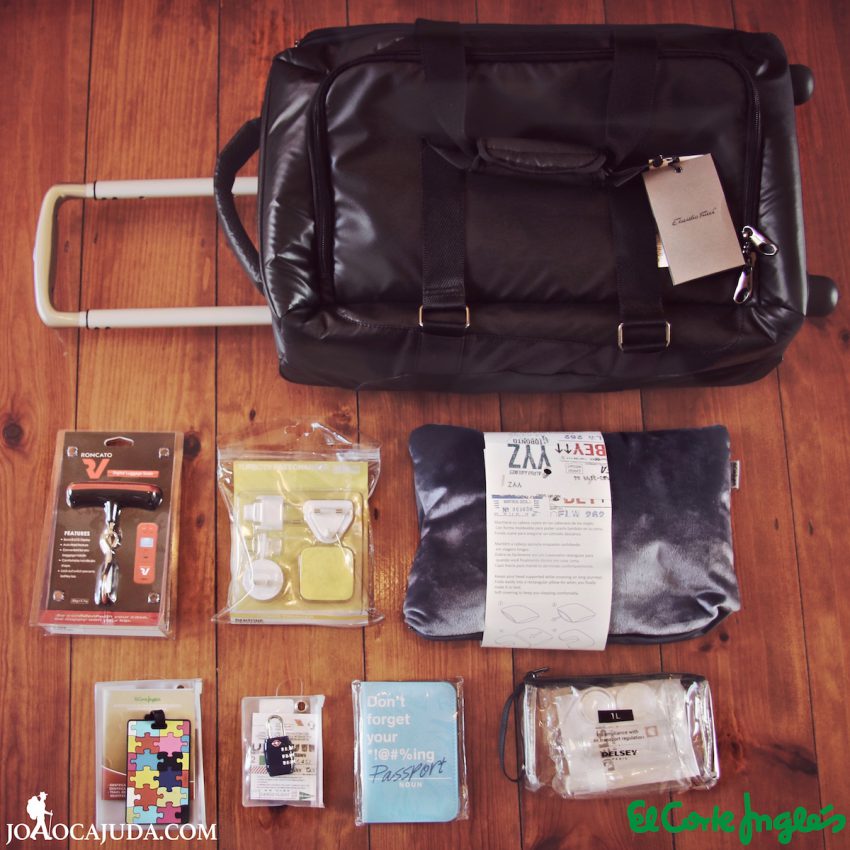 To participate you  just need to comment on the post I put on Facebook  (post / El Corte Inglés "What to bring in the suitcase?") A sentence that contains the words: João Cajuda, El Corte Inglés and Travel. The sentence that has more likes wins this wonderful gift.
You can ask your friends to like of your sentence until the end of June 2nd. On the 3rd I will announce the winner. Let's do it? Good luck to everyone! 🙂
UPDATE: The winner of the contest was João Pedro from Porto, with more than 1450 likes in his sentence.
This post was written with the support of El Corte Inglés.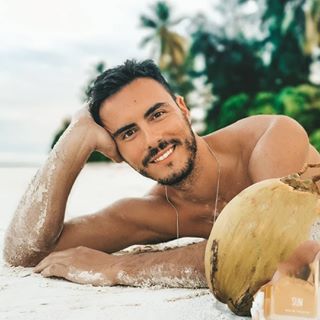 Hi! My name is João Cajuda, I'm a travel blogger from Portugal and founder of this website. In this blog I share my adventures around the world and give you tips about hotels, restaurants, activities and destinations to visit. You can travel through my videos or join my group tours that I organize to selected destinations. Visit my Adventure Travel Agency LEVA-ME and join one of my journeys!