15 reasons why i love Emirates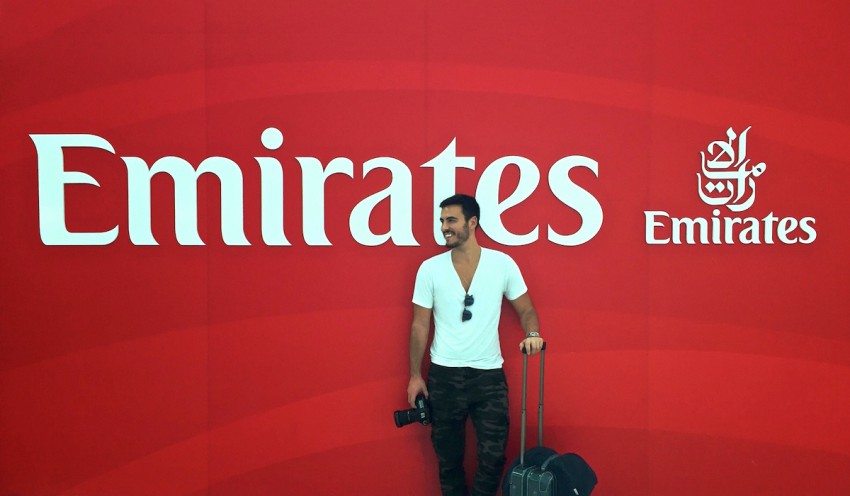 Last November, I traveled to Tanzania in partnership with Emirates. This was not the first time I flew with Emirates… Emirates is my first choice when I travel to Asia and the fingers of my hands are not enough to count how many times I traveled with them. In this post I will report not only my experience of traveling with Emirates in business class, but also tell you why they are one of my favorite airline company.
15 REASONS WHY I LOVE EMIRATES
1 – Emirates fly to almost anywhere! More than 140 destinations departing from Lisbon. From frenetic cities like Hong Kong to the uninhabited islands of the Maldives … Basically you can discover the hole world with Emirates.
2 – The Space – Emirates is one of the companies that provides more comfort to passengers in economy class. The legroom in all flights is approximately 86 cm, 12 cm more when compared to other airline companies. This photo was taken in Business class, not economy class.
3 – The entertainment system – No other airline comes close to the entertainment system ICE (information, communications, entertainment), Emirates is the winner in this category for more than 10 consecutive years. Information: You can watch live TV while flying… CNN, BBC News and other broadcast tv channels. Would you like to see the airplane taking off or landing? If you're not on a window seat no problem, you can watch the 3 cameras placed outside the plane. You can also follow the airplane's route, see on the map where you are, altitude, speed and other curiosities like the weather in your destination, the baggage carousel where you should pick up your luggage and the boarding gates in case you have an upcoming flight connection. Communications: You can connect to wi-fi at 10,000 meters. The price is $1 US per 500MB, cheaper than a coffee. You can also make phone calls (paid) and in some airplanes use your cellphone roaming. Entertainment: You can choose up to 1800 channels of entertainment, watch the latest movies, TV shows, series, listen to radio channels or play games with other passengers… There's no way you will get bored.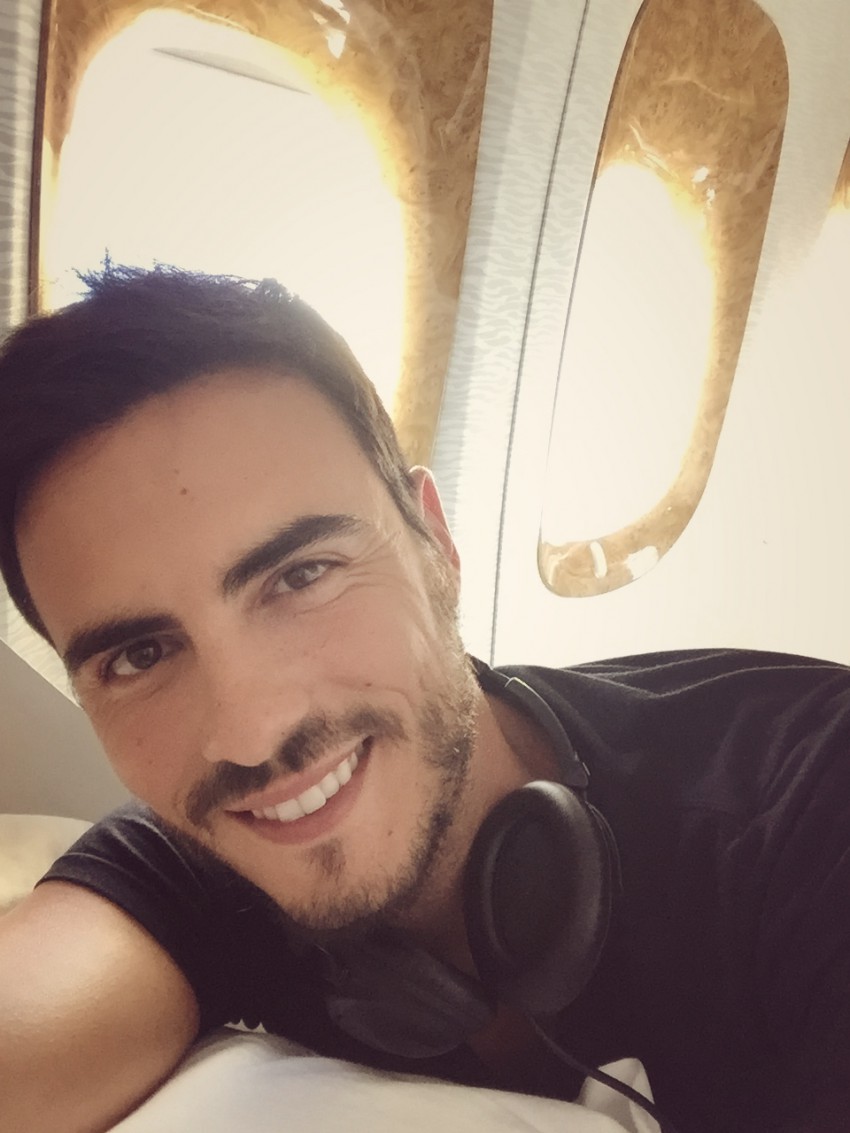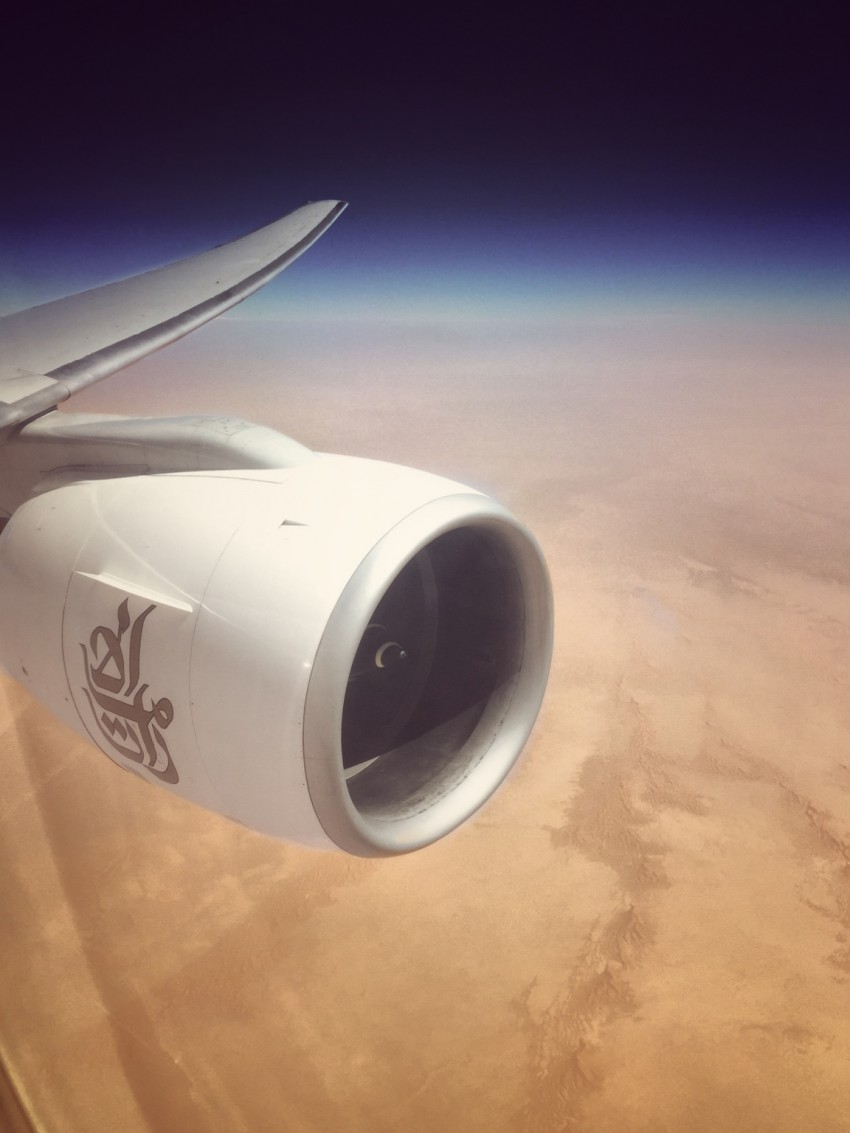 4 – Stopover in Dubai – All Emirates flights have a stopover in Dubai. I know… stopovers are a pain in the ass, but not in Dubai! For those who enjoy shopping the airport is a paradise, from gadgets to big brands… all in duty free. For those with big stopovers,  a tour around the city is a must do, you can go to the beach, shopping, climbing the tallest building on the planet, visit the desert … you can even go skiing! Read my Dubai guide, it has everything you need to know if you're visit the city, including 15 Top things to do and visit. Read post of Dubai.
Watch this video I did during my stopover in Dubai.

5 – The Food – We all know that airplane food is not exactly the most delicious thing, except if you fly on Emirates… The meals are prepared by international chefs, Business or economic, I always want more. In addition you can choose online the most appropriate menu for your diet, vegetarian, allergic to gluten, etc.
6 – The Drinks – Having a gin during the flight is marvelous. In Business class you can also ask for champagne, caipirinhas, your favorite cocktail or exclusive wines.
7 – They protect Nature – Most of the Emirates fleet are A380s. This "giant" is also the most environmentally friendly aircraft, consuming 20% less fuel per passenger than any other airplane, this means that emits less carbon into the air helping to reduce pollution. Emirates is no longer carrying hunting trophies, which is excellent news for the conservation of endangered species such as rhinos, elephants, tigers, lions etc.
8 – Sense of humor and sympathy – Have you seen the hilarious ads with Cristiano Ronaldo and Pele, or the latest with Jennifer Aniston? Emirates staff has always a smile to offer you! Emirates probably has the coolest flight attends at the sky.
9 – Style – I'm not the most suitable person to talk about fashion, but the hat with the silky cream-colored scarf that is evocative of the Arabic veil makes them very glamorous.
10 – The stickers – Each passenger has 3 stickers that can be placed on the seats. This way flight attendants are aware if you want to sleep, eat or if you want to shop.
11 – The star's in the sky – After meals, the plane's ceiling lights with million "stars" making the perfect environment to relax.
12 – The kit – The first and business class passengers start their trip with a little treat. In partnership with the Italian luxury brand Bvlgari, Emirates offers a bag of toiletries and perfume for freshness and comfort while traveling.
13 – The Driver – If you travel in Business Class, Emirates features a car service with private driver in many parts of the world. Yes, forget about the taxi, Emirates is picking you up at your house and takes you directly to the hotel.
14 – The hotel – Speaking about hotels, did I mentioned that if the stopover in Dubai is longer than 8 hours, Emirates offers a complimentary night to passengers flying in Business class?
15 – Blankets – They are warm and they look great in your couch… Of course I never brought one with me 🙂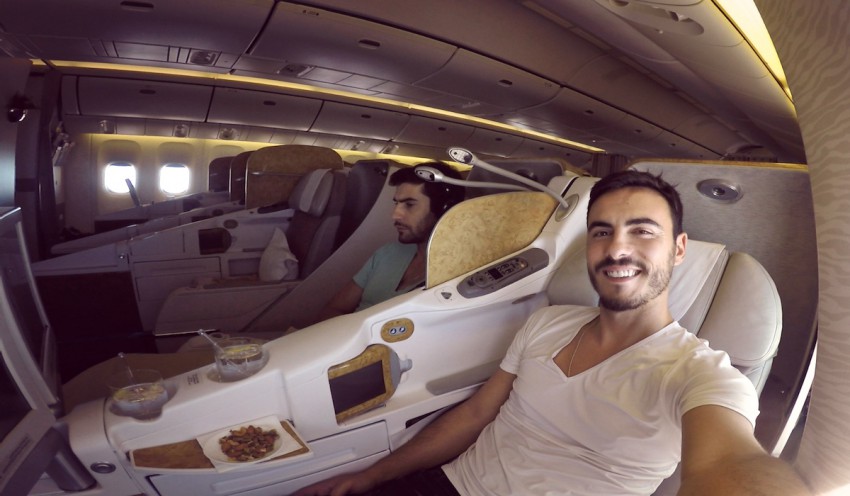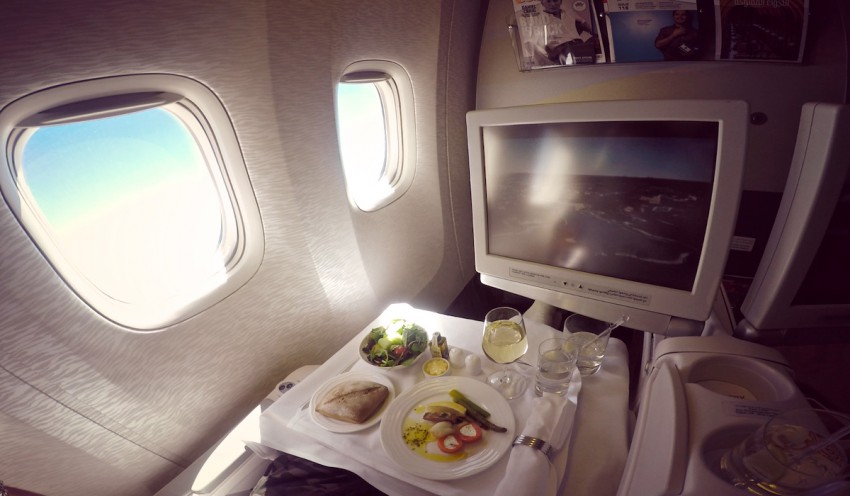 For these and other reasons it is normal that Emirates already has won more awards than Meryl Streep (which is almost impossible) … but let's speak about the airplane. The Business Class of Emirates Boeing 777-300ER is located on the front of the plane, between First Class and Economy Class. The cabin has 42 seats and a very intimate and elegant atmosphere with soft colors where stands out the golden rim that frames the seats and windows. Ceiling colors change depending on the local time, how cool?! Another detail that I love in the Emirates are the stars on the ceiling, an exclusive Emirates.
All seats of Emirates Boeing 777-300ER Business Class are big, with enough space for you to keep all your personal items. All seats have a power plug 220v for charging computers, phones and electronics devices. Each seat in business class has three windows, all controlled electronically: a first shutter of paper, and a second black-out so no light comes in. All seats can be reclined and turned into bed: although it has a slight slope, the bed is very comfortable! A small mattress is provided by the crew to improve comfort of those who want to sleep.
Each seat comes with a comfortable blanket, a pillow, a noise canceling headphones, sleeping eye mask and socks. In some flights Emirates offers to Business class passengers a Bvlgari amenity kit featuring a Drawstring bag, Foldable hairbrush, Dental set pouch with Colgate toothpaste, Tissue pack, Rexona deodorant, Bvlgari 40ml Body Lotion, Bvlgari 40ml After Shave Balm, Bvlgari 5ml Miniature spray, packed in a Bvlgari gift box, Gillette Shaving foam and a T&H Razor.
The food … As iI told you before I really like Emirates food, whether in economic, either in Business class. As expected, everything was wonderful, fresh fish, well-prepared dishes, different kind of breads, white spirits drinks and a wide range of renowned wines.
One of the advantages of traveling in business class on Emirates is your personal driver, courtesy of Emirates. The chauffeur-driver must be requested online 48 hours before your flight. Mine was very punctual, it was on my door before time and took me directly to the airport. When I arrived in Dubai, I also had a person from Emirates waiting for me with my name on a board, after a brief introduction of Dubai, he helped me in the customs process, with my luggage and escorted me to my driver.
The Business lounge in Dubai airport is extraordinary (it was named the best lounge in the world). Is so huge that it won't be difficult to find a comfortable corner to relax. The bathrooms are spacious, with changing rooms for those who need to take a quick shower before the flight. There are several food stations where you can eat and drink whenever you want (complementary), and Moët & Chandon Champagne to celebrate life 🙂 You can even make a reservation at the spa if you want to relax. There is a room with TV's and Playstation and also a "normal" and comfortable room for smokers. The lounge gives you direct access to almost all boarding gates.
This is why I always choose the Emirates… travel in business class is so wonderful that I found myself thinking… it's a pity that this trip is just eight hours!
WATCH MY VIDEO OF TANZANIA IN PARTNERSHIP WITH EMIRATES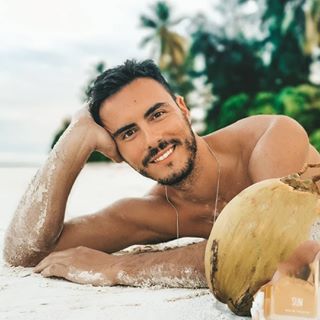 Hi! My name is João Cajuda, I'm a travel blogger from Portugal and founder of this website. In this blog I share my adventures around the world and give you tips about hotels, restaurants, activities and destinations to visit. You can travel through my videos or join my group tours that I organize to selected destinations. Visit my Adventure Travel Agency LEVA-ME and join one of my journeys!