Hp Sprocket – Giveaway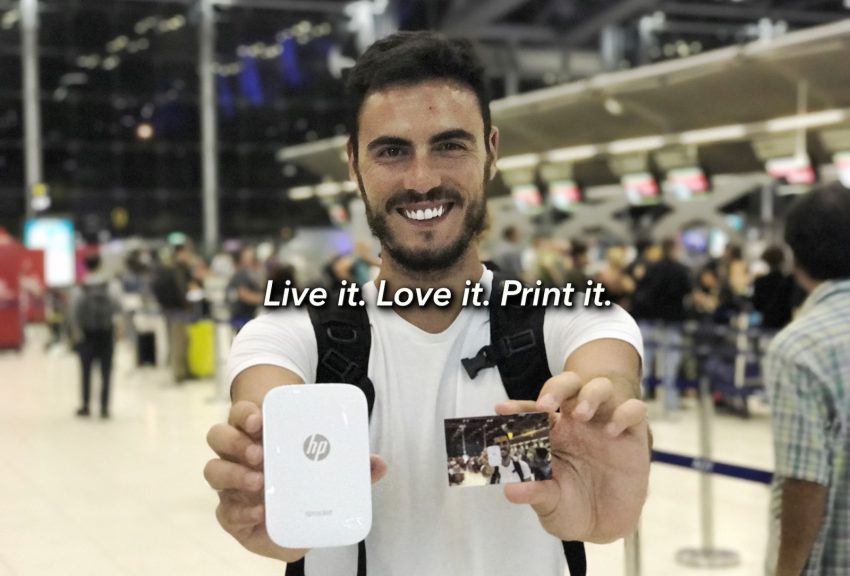 How many photos do you have? Most likely you'll have hundreds on your cell phone, thousands on your computer … But how many pictures do you really have on paper, in an album, hanging on the wall of your house, in your wallet? Nowadays we take lots of pictures everyday, we are obsess in capturing and share the moments we live. I speak for myself, I like to share everything with you … But most of the photos end up being "lost" in the hundreds of folders on that hard disk that has been in the drawer for years getting dust … We ended up never seeing them again, true? Some of them luckily yes, eheh.
My parents have several photo albums, some of them with very old photos. Nowadays taking pictures and printing is much easier, so why don't you make your own album? With the new mini printer HP Sprocket your photos will come to life.
Sprocket is a small photo printer (so small it fits in your pocket) designed to accompany your phone or tablet. I have the white one, there is also a black version but it is not available in Portugal. HP have one to offer you (find out how to win at the end of the post).
For those who travel is perfect, light, "cute" and extremely portable. Printing is fast, it takes only 42 seconds to have the photo in your hand. The photos have vibrant colors! You can easily integrate with your social networks like Instagram, Facebook or Flickr. You can also edit your photos in the Sprocket application for IOS or Android that contains dozens of effects, filters, stickers, etc … You can customize your photos in seconds … It is super intuitive and very simple, just take the photo, Connect via bluetooth with your phone, edit and print. It's super easy, in fact the design is so simple and clean, that there is even an ON / OFF button. The printer is charged by micro USB, and the battery lasts up to 30 photos printed.
Regarding the photo paper, you can buy small reloads of 20 photos. The printer already comes with a package of 10 included so you can start to have fun right away.
You can have small wallet photos (5 x 7.6 cm) printed at the moment and anywhere, even in the pool because the photo paper is waterproof (not the printer). In addition, just remove the back film and you can make stickers for your agenda, refrigerator, etc. Now it will be easier to take, print and share fun moments with your friends.
The photos of your travels will never get lost again on the internet!
Live, capture, print and remember.
GIVEAWAY
Now let's get down to business … Do you want an HP Sprocket? (Only for Portugal residents).
Applying to the "#MelhoresMomentosHP" competition is very easy. You only need to share on your Facebook or Instagram a photo with the Hashtag #MelhoresMomentosHP
The competition runs from March 23rd and 23:59 hours on April 13, 2017. The more photos you share the higher the chance of winning 🙂
There are three prizes, each of the prizes are composed by:
1st Place: 1 HP DeskJet 3700 + 1 HP Sprocket
2nd Place: 1 HP Sprocket
3rd Place: 1 HP DeskJet 3700
To know the giveaway details visit this link of HP.
Wish you good luck and happy travels 🙂
COMMENTS
Hi! My name is João Cajuda, I'm a travel blogger from Portugal and founder of this website. In this blog I share my adventures around the world and give you tips about hotels, restaurants, activities and destinations to visit. You can travel through my videos or join my group tours that I organize to selected destinations. Visit my Adventure Travel Agency LEVA-ME and join one of my journeys!